The smart recycling subscription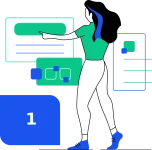 Purchase one of our smart recycling subscriptions conveniently via the website or call us.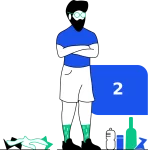 No collecting, no separating.
You just throw all your recyclables into the recycling bag unsorted.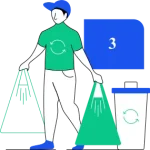 Receive a reminder by SMS the day before and make the bags available for collection.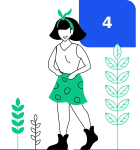 We sort the trash and through our partner network guarantee maximum efficiency in the recycling process.
starting at CHF 27.40 / mo.
starting at CHF 18.25 / mo.
FOR COMMUNITIES, ORGANIZERS, REAL ESTATE OWNERS
Der Abfallentsorgungsservice ist genial! Herzlichen Dank für den hervorragenden Service!
Katharina Meyer
21 September 2023
Ich habe zwei Brillenetui gekauft und die sehen sehr schön aus und sind aus Kork gemacht. Auch ist die Qualität sehr gut. Vielen Dank.
Peter Gatzka
3 August 2023
Die Idee find ich super.Als Neukunde kann ich nur sgen , die erste Abfuhr hat funktioniert. Ich kann also zufrieden sein.
Sehr praktisch und unkompliziert. Ich bin sehr zufrieden.
Claudia Presicce
3 August 2023
Finde eine super Idee dann muss nicht selber das Auto beladen und nicht selber entsorgen. Immer pünktlich mit der Abholung. Danke für eure Arbeit.
Beatrice Suter
3 August 2023
Wir finden Dieses unternehmen sehr gut.und es erspart ins zeit und aufwand .
Vito Corleone
3 August 2023
Alles Bestens! Sehr unkomplizierte, rasche und zuvorkommende Abwicklung. Ware 1A!
tatiana calinescu
3 August 2023
WeRecycle ist das beste was man für die Umwelt, Nachhaltigkeit unternehmen kann. Mit WeRecycle kann ich vieles in ein ReclycleMe Sack sammeln, keine Sortierung, keine umständliche Entsorgung. Ich deponiere vor der Türe und wird zuverlässig abgeholt. Mit 4 Säcke im Monat, bin ich bestens abgedeckt. Man sparrt dazu noch Abfallsäcke, denn vieles landen in Abfallsack aus bequemlichkeit. Vielen Dank Euch! Weiter so ❤️
kevin huber
3 August 2023
Guter Service!
The smart recycling subscription
Convenient & sustainable disposal
Clean, practical and convenient for you, sustainable for our planet
For us at WeRecycle, we also have a strong social responsibility. Basically, we give people from every segment of the population and of all origins a fair chance of employment and wherever possible we try to consider employees who had little or no chance on the primary labor market (long-term unemployed, former inmates, cooperation with foundations, etc.).
WeRecycle in 129 seconds (German video)
Letzte Aktualisierung: 30.09.2023