The smart recycling subscription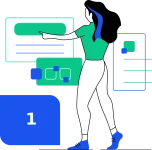 Purchase one of our smart recycling subscriptions conveniently via the website or call us.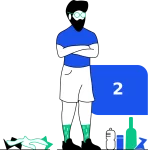 No collecting, no separating.
You just throw all your recyclables into the recycling bag unsorted.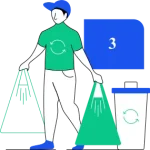 Receive a reminder by SMS the day before and make the bags available for collection.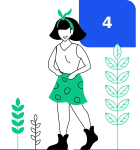 We sort the trash and through our partner network guarantee maximum efficiency in the recycling process.
starting at CHF 22.80 / mo.
starting at CHF 18.25 / mo.
FOR COMMUNITIES, ORGANIZERS, REAL ESTATE OWNERS
Monika Durrer
17 Juli 2023
der Diest ist wertvoll - und wenn ich Fragen habe, kann ich anrufen und erhalte klare, freundliche Antworten
Reto Boenzli
14 Juli 2023
Immer einen SMS-Reminder erhalten und zuverlässig abgeholt. Ausser ein Mal und da wurde dafür eine zusätzliche Abholung organisiert. Nur mit einer Mail. Der Mailverlehr war auch immer sehr freundlich.
Jeanine Keller
14 Juli 2023
Super einfach, zuverlässig und toller Service. Schont die Umwelt, meine Zeit und schafft wertvolle Arbeitsplätze.😃💝👍🙏🏻
Mathias Sagelsdorff
14 Juli 2023
Alles läuft perfekt, freundliche Mitarbeiter und ein Unternehmen, welches sich für die Natur einsetzt!! Danke für euren Einsatz.
Guter Service und sehr unkompliziert. So macht Recycling Spass. Danke
Echt genial, wir haben fast keinen "normalen" Abfall mehr und müssen nie mehr zur Entsorgungsstelle.
The smart recycling subscription
Convenient & sustainable disposal
Clean, practical and convenient for you, sustainable for our planet
For us at WeRecycle, we also have a strong social responsibility. Basically, we give people from every segment of the population and of all origins a fair chance of employment and wherever possible we try to consider employees who had little or no chance on the primary labor market (long-term unemployed, former inmates, cooperation with foundations, etc.).
WeRecycle in 129 seconds (German video)